Posts for: March, 2018
By Jeffrey S. Ryther, DDS, MS, SC
March 30, 2018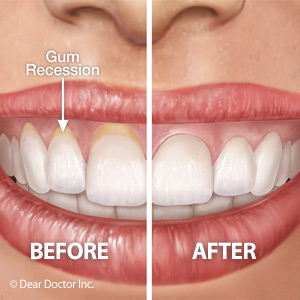 Your gums can take a lot — they're resilient and they endure a variety of abrasive foods over a lifetime. But resilience isn't the same as invulnerability: your gums can be weakened by periodontal (gum) disease or by over-aggressive brushing that causes them to shrink away (recede) from the teeth they protect.
Unfortunately, it's not a rare problem — millions suffer from some degree of gum recession, caused mainly by gum disease. This aggressive infection arises from bacteria in dental plaque, a thin film that builds up on tooth surfaces due to inadequate oral hygiene. Fortunately, gum disease can be effectively treated in its early stages by removing plaque above and below the gum line. Diseased gums will quickly rebound to their normal health.
Unfortunately, though, heavily recessed gums from advanced stages of gum disease (as well as those who've inherited thinner gum tissues and are more susceptible to recession) may not come back fully without help. This can affect the health and survival of affected teeth, as well as your appearance.
Plastic periodontal surgery can help restore these lost tissues. There are a number of procedures that can be used depending on the exact nature of the recession, and most involve some form of tissue grafting. A specimen of donated gum tissue (either from another portion of the patient's gums or a thoroughly cleansed and properly processed donation from another person) is surgically attached to the gums at the recession site.
The graft can be completely freed from the harvest area or in some cases a part of it remains attached to receive blood supply while the rest is grafted to the site. These procedures, especially the latter, require meticulous skill and sophisticated microsurgical techniques to make an effective attachment. If the tooth root is involved, it must be thoroughly prepared beforehand through polishing and decontamination to ensure the new graft will take. The graft is sutured in place and sometimes covered with a moldable dressing for protection.
As the area heals, the tissues begin to grow around the graft, restoring better coverage for the tooth. Coupled with comprehensive gum disease treatment, this form of plastic surgery can restore new health to teeth and a transformed smile.
If you would like more information on treating gum recession with plastic surgery, please contact us or schedule an appointment for a consultation. You can also learn more about this topic by reading the Dear Doctor magazine article "Periodontal Plastic Surgery."
By Jeffrey S. Ryther, DDS, MS, SC
March 15, 2018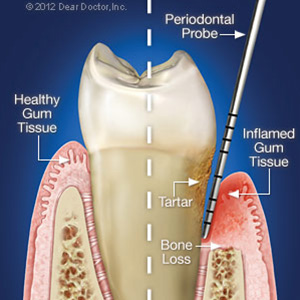 If you're over age 30 there's a fifty percent chance you have periodontal (gum) disease—and you may not even know it. Without treatment this often "silent" bacterial infection could cause you to lose gum coverage, supporting bone volume or eventually your teeth.
That's not to say there can't be noticeable symptoms like swollen, red, bleeding or painful gums. But the surest way to know if you have gum disease, as well as how advanced it is, is to have us examine your gums with manual probing below the gum line.
Using a long metal device called a periodontal probe, we can detect if you've developed periodontal pockets. These are gaps created when the diseased gum's attachment to teeth has weakened and begun to pull away. The increased void may become inflamed (swollen) and filled with infection.
During an exam we insert the probe, which has markings indicating depths in millimeters, into the naturally occurring space between tooth and gums called the sulcus. Normally, the sulcus extends only about 1-3 mm deep, so being able to probe deeper is a sign of a periodontal pocket. How deep we can probe can also tell us about the extent of the infection: if we can probe to 5 mm, you may have early to mild gum disease; 5-7 mm indicates moderate gum disease; and anything deeper is a sign of advanced disease.
Knowing periodontal pocket depth helps guide our treatment strategy. Our main goal is to remove bacterial plaque, a thin film of food particles that collects on teeth and is the main cause and continuing fuel for the infection. In mild to moderate cases this may only require the use of hand instruments called scalers to manually remove plaque from tooth surfaces.
If, however, our periodontal probing indicates deeper, advanced gum disease, we may need to include surgical procedures to access these infected areas through the gum tissue. By knowing the depth and extent of any periodontal pockets, we can determine whether or not to use these more invasive techniques.
Like many other health conditions, discovering gum disease early could help you avoid these more advanced procedures and limit the damage caused by the infection. Besides daily brushing and flossing to remove plaque and regular dental checkups, keep watch for signs of swollen or bleeding gums and contact us for an appointment as soon as possible. And be aware that if you smoke, your gums will not likely bleed or swell—that could make diagnosis more difficult.
If you would like more information on treating gum disease, please contact us or schedule an appointment for a consultation. You can also learn more about this topic by reading the Dear Doctor article "Understanding Periodontal Pockets."